Esco Bars are a disposable that utilizes mesh coils as the heating element to atomize the internal e-liquid, This can offer a more flavorful vape and have a denser vapour production. Esco bars come in 40 flavours, puff counts and sizes while having a reasonably affordable price from $13 – $16.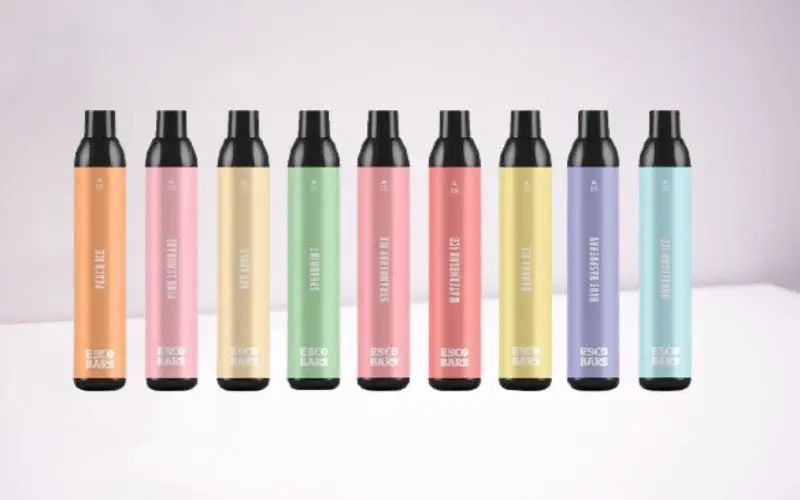 What Are Disposable Vapes?
Disposable vapes come in a variety of forms and sizes, puff counts, kinds, nicotine strengths, and flavours.
You don't have to change the coils or replenish the liquids; just use it and throw it away. Because of how simple they are to use and replicate the way you would normally use them, disposables are a great alternative to smoking.
To generate the flavor and vapor, disposables use PG/VG (propylene glycol and vegetable glycerin), and Nic Salts, usually 10mg – 50mg.
Better than normal vapes? 
Disposables are frequently less expensive, with pricing starting at a significantly lower level.
Disposables are widely accessible in many places, including convenience stores, vape shops, and several major supermarkets.
In the UK and EU nations, disposables must adhere to Tpd (Tobacco Product Directive) compliance in order to preserve product safety and regulation, whilst the PMTA in the US has a comparable requirement ( Pre Market Tobacco Application)
How Many Cigarettes Does Esco Bars Compare To?
There are many variables that come into play like absorption rates, Nicotine strengths and the type of nicotine however typically 1 cigarette can contain 0.7 – 1mg approximately of nicotine while e-liquids lets say a 3mg Liquid is 3mg by volume, this makes one bottle approximately 2-3 cigarettes per bottle.
Are disposable vapes MTL or DTL?
Many disposable vapes are designed to be MTL ( mouth to lung) however different brands and models may have a more open / less restricted airflow making it easier to inhale from the device. 
Unfortunately, many disposable manufacturers do not offer adjustable airflows but Nasty juice with their Fix disposable do offer an adjustable airflow control.
The Quality & reliability Of Esco Bar Disposable Vape Products
Disposable vapes are available from a variety of manufacturers, and while quality varies, most provide a durable and high-quality product.
Because the most well-known companies in the vape business, such as geek vape, have embraced disposables, the quality of the vape experience can be anticipated to be on par with any other on the market.
Due to the rapid growth of the disposable industry, some brands and products have become more well-known than others and have been shown to be more trustworthy.
Disposables, on the other hand, are comparatively low-cost products, ranging from $9 to $25 depending on the brand, volume, and region. They usually last about the same amount of time as the recommended puff count.
How Long Do Esco Bar Disposables Last?
Typically disposable vapes have a puff count and are anywhere between 200 – 4000 puffs, this will depend on the brand and model of the products. 
Are There Any Problems With Escso Bar Disposables? 
Some people's main issue with disposable vapes is that they don't hit. When you inhale, the light may glow, but there is no vapour. When you inhale, you might not notice anything at all. There are a few possible causes for disposables to hit, and we'll start with the most common. Troubleshooting instructions are frequently available on the manufacturer's website, and the employees at your local vape store will almost certainly be able to assist you.
Are Esco Bar Vapes Products Safe? 
Disposable vapes are widely regarded as a far safer alternative to cigarettes. Vapor is not the same as smoke, and these devices do not emit tar or carbon monoxide, two of the most hazardous components in tobacco smoke.
They are not for those under the age of 18 and are usually offered in the strongest legal strength for that country/region. This usually starts at 10 MG and goes up to 20 MG for the EU and the UK. The US, on the other hand, usually goes up to 50 MG.
The legal nicotine level limitations will apply to all brands. They will vary somewhat in form and style, but they will all be thin yet pocket-friendly.
Some nations have outright bans on vaping, while others have strict rules.
Here is a quick list
Mexico
Syria
Brazil
Qatar – Completely banned.
There are some extreme cases 
Singapore – Completely banned. Possession is also a crime and can carry a fine of up to $1500.
Thailand  – Completely banned can see prison sentence up to 10 years if convicted.
What is Esco Bar Products Warranty Like?
Due to the nature of the items, disposable vapes usually have a "all sales are final" policy. However some have warranty options, some only accept a return for refund or replacement due to product defects under regular use.
The Warranty & Returns Service does not cover any physical damage to the product as a result of overuse, falling, or any other level of damage. You may check this on the manufacturer's website or inquire at the store where you purchased it.
Where Can You Buy Esco Bar? 
Many disposable are readily available from convenience stores, vape shops major supermarkets, like the following:
USA:
711
Wallmart
Most local vape shops ( Depending on if the sale of vapes is banned in the state)
Uk:
Off licences 
Costcutter
Supermarkets like Tesco's, Sainsbury's, Asda 
Most vape shops
Amazon
What Alternatives Are There To Disposable Vape?
Due to the popularity of throwaway vapes, some vaping companies have created devices that are refillable, reusable, and rechargeable. Some of the tobacco is heated. All of them provide a fantastic technique to quit smoking.
What Are The Best Disposable Vapes?
Here are just some of the most popular from the USA and UK:
fume bar
smok vape pen
rick morty
kandy pens
dinner lady 
air bars 
puff bars
Nasty Juice Nasty Fix
Hcigar AKSO
GeekVape Geek Bar Lite
Dinner Lady Disposables
Cali Greens
Elf Bar
Vaptio Beco Bar
What Is The Point Of Disposable Vapes?
Due to the form of usage, disposable vapes are supposed to be a better alternative to smoking and an easier means of transition.
Final Thoughts
If you are looking for a disposable vapoe or just considering a new brand to try, Esco Bar is a good brand to try. They have a range of flavors and strengths to explore and are readily available at many locations.