The brand that uses the Evolv DNA 75c board has been made very popular in the market due to its great functionality and its small size.
DNA 75c mods are more seen with a number of different battery types but more commonly they are made to use 18650 or 21700 removable rechargeable batteries
Here's How Good DNA 100c Mods Are
Evolv's DNA 75c boards are the major component of a DNA 75c device; nevertheless, Evolv has earned a reputation for providing one of the most efficient power management and relabel boards over the years. The 75C's maximum wattage is 75w, and despite the device's many capabilities, it is simple to operate for both beginners and advanced users.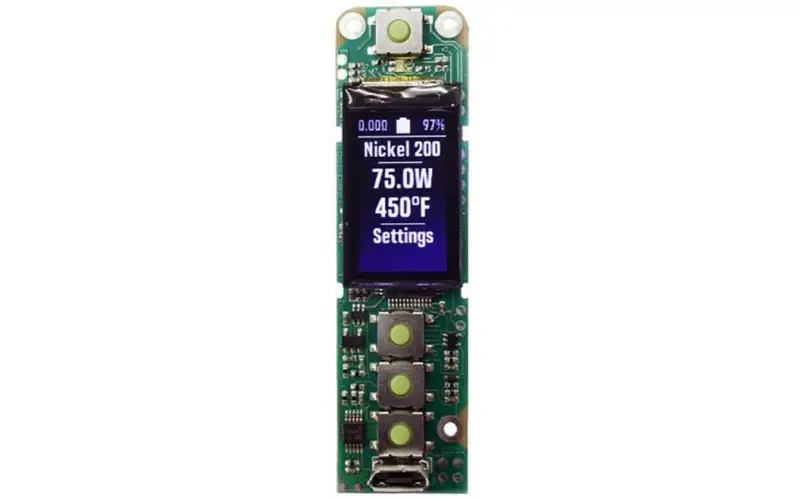 What Is A DNA 75c
In simple terms, a DNA 75c is a device with a maximum wattage of 75 watts that is controlled by Evolv's DNA 75c board.
The 75c is packed with functionality, and the brand has established a reputation for producing dependable, easy-to-use boards for manufacturers to utilize in their products.
The 75c shares many characteristics with other Evolve boards such as the 100c and 250c, but the wattage is different, with the 100c having a maximum wattage of 100 watts and the 250c having a maximum wattage output of 400 watts with four batteries, but is more commonly used in a two-battery design, making the maximum wattage 200 watts.
DNA 75c Features
Modes: Watts, Temperature Control (Ni200 Nickel Support, Titanium Support, Stainless Steel Support, 200 to 600 Degrees Fahrenheit), wattage boost, replay (1 to 75W Output)
Full customization of the interface/theme, 
Battery configuration: x1 18650, x1 20650, x1 20700, x1 21700, Lipo cell rechargeable battery.
Full-colour O-LED display
Screen size 0.83" x 1.66
USB C Charging/software upgrading
Safety features(short circuit protection, reverse battery protection and temperature protection for the board) 
Escribe support and Escribe theme designer
DNA 75c Size
The size will vary depending on the brand, but the DNA 75c board is designed to be used with a single battery, making it a compact device.
Some brands, such as Rebel Vape, use a 3D printing process for the cases of their 75c devices, which makes them exceptionally light and durable due to the material used in the printing process, which is a Nylon polymer.
As well as the High-end band Vicious Ant which is known for using exotic materials like stabilized wood, resins and Aerospace-grade aluminum. 
Other brands like Dovpo, Lost Vape and Think Vape which is more mass-produced devices as they are designed and assembled in China are often made with a metal alloy making them larger and heavier.
Build Quality And Construction
The design and build quality of Evolv's DNA 75c are not generally known, as the circuit boards are frequently hidden behind panels and screws and cannot be seen without disassembling the device.
However, many of the devices equipped with a DNA 75c board have received positive feedback and are recognised as excellent products.
The customisable interface, paired with Evolv's reputation for creating highly efficient and high accuracy in sensing the levels of resistance from an atomizer, is their strongest selling feature.
There are two main varieties of devices that use a DNA 75c board; one is a regular power device, the other is a squonk capable device.
The squonk ability allows users to use a rebuildable atomizer ( RDA) that is also squonk capable and the device will hole a small bottle to allow e-liquid to be fed directly to the rebuildable atomizer by gently squeezing on the bottle.
How To Use A DNA 75C
Using a 75c is similar to using any other device, but the response, efficiency in power delivery and management,  as well as the level of precision in resistance reading are unmatched with many brands trying to do so with marginal success. 
You can add the needed battery once you've picked a device with a DNA 75c chip; many of the 75c devices are built to use 18650/20700 or 21700 removable batteries, this will depend on the brand, design and model.
Once a battery is installed you then simply attach the atomizer you wish to use and push any of the buttons once to wake the device and you can then press the fire button five times to unlock the device ( you can change the lock sequence by going in the menu setting and into the lock screen option or by installing the Escribe software and connecting the device to a pc.)
You can also enter into the different profiles/modes by pressing the middle selection button and going to the desired mode which is Watts, watts boost, Temp control Nickel 200, Temp control Titanium, Temp control SS 316, Temp control SS 430, Replay and Kanthol.
What Is Daily Usability Like?
Using a DNA 75c mod is a whole different feeling compared to the majority of devices available to the market as you feel a sense of care and pride with many of the DNA powered devices.
Once you have attached an atomizer you will quickly notice the response from the device and how snappy and quick it can fire your atomizer
You will like the ease of use, practicality, and customization of your 75c and you can easily make it more suited to the way you want with the Theme design software and the option to custom set profiles making it easy to swap when you want to change atomizers.
However, because of the cost of the board, DNA devices can often be more expensive, but this is worth it because, unlike most other brands of devices, you can frequently get more help with concerns. You can always turn to Evolve for assistance, and there are numerous online forums and communities that can assist you.
DNA 75c Price
There are some large variations in prices between brands as some brands who offer a more high-end premium device will cost considerably more, however, this does not directly affect the performance of the device, only the ergonomics and materials used to manufacture the body of the device.
Prices for DNA 75C devices are from around $135 -$500+ / £99 – £381+.
Who Makes DNA 75C Mods?
There are a select few well-known brands and a few that make custom artisanal higher-end models.
These brands are the following:
Lost Vape
Think Vape
Rebel Vape
VapeSmarter
Vicious Ant
Dovpo/ Signature Tips
Similar Products To DNA 75c?
Over the years a few well-known brands like Voopoo, Vaporesso and even Lost Vape have made attempts in making proprietary chips for their devices that can simulate the way an Evolv chip performs.
However many people who have experienced an Evolv DNA device will remain with the DNA device as the brands who offer their proprietary chip often do not have all the same features, customizability and as high-efficiency.
Yihi Hcigar
Yihi have historically been considered the Chinese rival to evolv. I have introduced many well reviewed and well-made products. They have been known to make very hard hitting devices, great screen features and good reliability. In recent years their releases have died off somewhat, although are still very well regarded by experienced vapers.
One notable Yihi mod that compares very well to the DNA 75c is the Yihi 485J. Currently the only brand making devices with this board are rebel. The Rebel Yihi 485j comes in almost identical design and battery capability as the DNA. The only main difference is the screen functionality and the joystick control instead of button the menu control.
Yihi do you tend to have more of a twist and go approach to their designs, meaning typically they are not as customisable as evolve. The features are set and although there are software updates, you do not have the same level of customisation.
It is important to note that even though Yihi are considered hard-hitting, evolv software has the ability on the board as well as on the PC to change the punch power of the device giving you complete flexibility in how it performs.
Best Sellers
There are a few brands that use the Evolve DNA 75c board to control their device with some being more known.
We have made a list of the top bestsellers of 75c devices.
Rebel Vape DNA 75c x1 20700/21700 
The Rebel Vape DNA 75c x1 20700/21700 is their most popular 75c device and has a great ergonomic shape as well as being very lightweight due to the materials used to 3D print. They also offer a Squonk version.
Lightweight
Made in the UK
3D printed body
12 months optional extended warranty 
Global wholesale links
Price: $197 – $210 / £150 – £160
Dovpo Odin DNA 75c
The Dovpo 75c quickly became a popular device released in 2020 as a collaboration by Dovpo, Vaperz Cloud and Vape review YouTuber Vaping Bogan.
Single 20700/21700
Made from aluminum
Custom Theme pre installed
Vicious Ant Duke II
Vicious Ant produces stunning ergonomic devices with the Duke series being the most well known. There several versions of the Duke II, the standard version in 18650 and 21700 made from aerospace aluminum and the other versions being made from stabilized wood also taking in the same battery sizes.
Amazing build quality
Exotic material used 
Luxurious
Range of colors and patterns 
Warranty
The warranty from the manufacturers of the device are between 28 days – 12 months.
The warranty would not cover however the following.
Liquid damage
Misuse/modification
Damage caused by drops or falls
Accessories 
Pros & Cons
Final Thoughts
DNA 75c devices are one of the most popular and common devices to see on the market, largely due to the smaller size and versatility coming in many shapes, battery type and regular mod or squonker.
Should I Buy A DNA 75c?
If you are wanting a sub 100 watt device that is small and compact there are a number of DNA 75c devices however with the Rebel Vape DNA 75c devices weather it a squonk device or a standard device you will also have a ultra lightweight device making it perfect for a everyday carry mod 
You can learn more about Evolv and the DNA 75c with our previous blog where we talk about Are Evolv DNA Vapes Any Good? (Things To Know) https://onlyvaping.com/evolv-dna-vapes/
Resources
https://www.vaporesso.com/omni-board
https://viciousantonline.com/?s=75c&product_tag=&post_type=product