OXVA's Founder Justin Lai, known for designing for designing the most popular Box mod and rebuildable, with over 10m products sold
The aim is to bring an evolving line of products to an ever changing market, listening to users and continuing to develop better products.
Here's How Good OXVA Is
OXVA's experience in design and development is unquestionable. Their product line is sleek, aimed for flavor production, feature controls and built with high quality in mind. Aimed at beginners and intermediate, there is a wide range to choose from All-in-ones to Box Mods and Rebuidables. Prices start from approximately $25.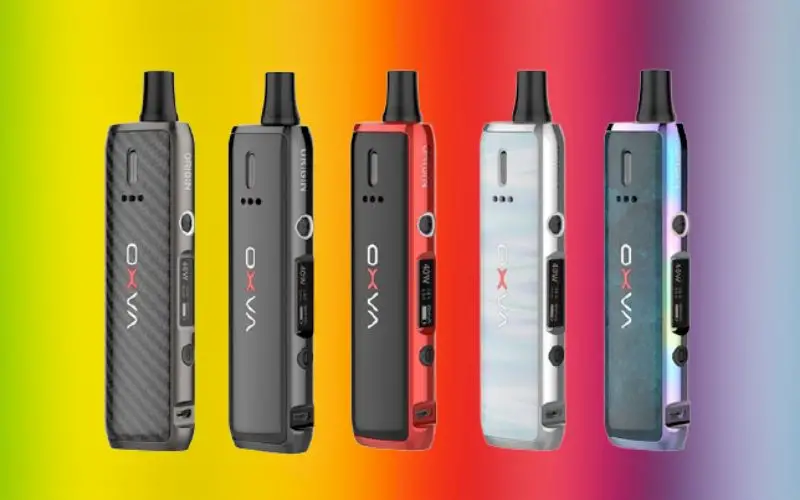 A Brief History Of OXVA
Founded in 2019 By Justin Lai, who originally designed the Aegis Range of Mods and Zeus Range of Tanks for Geek Vape. He is the designer of the most sold box mod and rebuildable tank ever on the market.
OXVA standards for OX (powerful and reliable) and VA (vape).
Here is a list of some of the best they have made so far
Origin/Origin Mini/Origin X
Where Are OXVA Products Made?
OXVA, like most of Vape companies have their products are manufactured in Shenzhen, China.
This is a province very well-known for its manufacturing, with back to back factories providing high quality machining, CNC, injection moulding and anything you would expect to complete a vape device.
What Is The Quality Of OXVA Products Like?
OXVA states products 'undergo a complex monitoring procedure throughout the whole process, from advanced engineering to the choice of materials used to ensure the highest quality and performance'
Here is a list of some of the features;
Leather or pleather, Brushed finish
6 Feature safety on their chipsets
How Long Do OXVA Products Last?
There are no reports so far, it is two new a business  have any usable feedback regarding how long their product last. However as mentioned, they are manufactured in China, where the majority of the vape products are made. It can therefore be said to assume they will be of a similar quality.
It can be expected that with good care and use of a product would last you anything up to 2 years. However please do note this will be reflected upon the price. Low priced items tend to have cheaper components inside them, which subsequently will not last longer than more high end counterparts.
Are OXVA Products Safe & Reliable?
The photon chip, that powers some of their products has six safety features:
Short-circuit Protection 
Over-time Protection
Output Over-current Protection
Over-temperature protection
Over-charge Protection
Over-discharge Protection
It is safe to say they have covered all the bases, and have made sure that these devices, bearing in mind the majority are designed at new beginners, intermediate, that they are packed with safety features to give the user as best an experience as possible.
What Is The Warranty Like On OXVA Products?
All items are covered by a 6-month warranty calculated from the day of delivery.
15-day refund if the item returned is not opened, they will not accept if opened or packaging is damaged for safety protocol. Items overed are as follows:
open cartridges
Replacement coils
Drip tips
Replacement glasses
Atomizers
And clearance products.
If a non-defective item is returned, under no circumstances is a refund eligible. If an item arrives broken, do not send it back to save the user shipping fee, email instead (support@oxva.com)
Additionally;
If asking for a replacement, the following info is needed:
1) Order number/date:
2) Product name and quantity:
3) Serial number and Security code (With picture):
4) Defective description:
5) Defective Video or pictures:
Are There Any Common Issues With OXVA Products?
No known Issues at present date, however the Business has only been established in the last two years. However nothing out of the ordinary has been documented.
Common Issues With Vapes
It is important to note that there can be issues with Vape devices, these are usually down to user error, or just common faults that can occur in vapes generally.
Leaking From The Tank
This can usually be to do with seals being born, not securing the tank/pod down correctly, the filling hole not being sealed properly, or something wrong with the coil.
Device Not Firing
The Atomizer connection if coil plugged in properly can cause this. It can also be because the atomiser/coil is faulty, or potentially the battery is not charged enough.
Device Does Not Power On
Typically the device will just need charging. It could be however that the battery inside the device is dead. If it is a replaceable battery, this can be fixed, however if it is an inbuilt battery, you will need to consult the manufacturer. It is important to note that you should correctly charge your device via the manufacturer instructions.
What Are the Most Popular OXVA Products?
Here is a list of some of their most popular products, with a breakdown of features and who they are suited for. Whatever type of device and price points you are looking at, OXVA offer something.
| | | | | |
| --- | --- | --- | --- | --- |
| Model | Category | Suitable For | Spec/Features | Price |
| Arbiter 2 RTA | RTA | Intermediate  to Advanced | 26mm DiameterSimple to build onSuperb flavour and CloudExcellent Top to Bottom AirflowNo leaksSingle and Dual coil builds | $30 – $38 |
| Velocity 21700 | Mod | All Levels | Creative 510 connectionPowered by single 18650/ 20700/21700 battery with max 100W output3 modes: Smart/ Power/Voltage modesBuck-boost converter PCBACompatible with all OXVA coils | $60 – $65 |
| Origin X | Mod | All Levels | 60W Adjustable OutputSingle 18650 Battery RequiredSupports MTL & DTL Vaping2ml Refillable Pods IncludedCompatible With Multiple CoilsRBA Pod CompatibleSuitable For High PG Or High VG e-Liquid | $48 – $55 |
What Are Some Products Similar To OXVA?
There is a lot of competition in the Vape industry, needless to say with compact all in one devices, box mods and rebuildables, there are going to be other options. Here are some of the best alternatives on the market you may want to consider
| | | | | |
| --- | --- | --- | --- | --- |
| Model | Category | Suitable For | Spec/Features | Price |
| VooPoo Drag X | Mod | Ideal Beginner  setup | Requires Single 18650 Battery 80W Max Output Full Colour Display Screen GENE.TT Chipset Variable Wattage 2ml Eliquid Capacity Adjustable Airflow Employs PnP Coil Series | $24- $26 |
| GeekVape Zeus X RTA | RTA | Intermediate  to Advanced | Size: 25mm x 47.8mm Capacity: 2ml Type: Single/Dual Coil RTA Thread: 510 | $27 – $30 |
| Innokin Kroma Z | Mod | All Levels | Size: 114 x 37.8 x 28.6 mm Battery capacity: 3000 mAh / 3.75 V Coil material: Kanthal mesh Resistance range: 0.2 – 3.5 Ω Wattage: 6 – 40 W Voltage: 1 – 7.5 V Cut off time: 3 – 18 S Max output: 14.5 V Connection type: Spring loaded Body material: Magnesium alloy Charging current: 1.7 A | $35-$43 |
What Do Reviews Say About OXVA?
OXVA is already making some noise in the industry. They are getting noticed for their design and build quality, as well as their features. Here are some reviews about their products.
Final Thoughts
It is fair to say that OXVA Is a good brand, they have started only but two years ago, yet already are quickly building a name for themselves. They aim to make sure they offer a superior quality, feature packed chipsets, and devices that will suit the user and ensure a great vape experience.
If you're in the market looking for a new vape, want to try something new and like their designs, then OXVA he's definitely one to look into.
Resources
https://www.oxva.com/pages/warranty-returnhttps://onlyvaping.com/is-innokin-good-vape-brand/
If you are interested in our similar articles, you may like to check out: