The SMOK Novo 2 Pod System Kit is a much-awaited upgrade to the original Novo pod system. Despite having a similar appearance to its predecessor, the Novo 2 boasts significant improvements that set it apart from the previous model. The SMOK Novo 2 Pod System Kit is an excellent improvement over the original Novo. 
With its improved battery life, redesigned airflow system, and versatile pods, the Novo 2 offers a superior vaping experience. If you're looking for a reliable and easy-to-use pod system, the SMOK Novo 2 is worth considering.
Let's look closely at SMOK NOVO 2 Pod Kit from its design and build quality to its vapor production and battery life.
Here's How Good The SMOK NOVO 2 Pod Kit Is
The SMOK Novo 2 Pod Kit is a stylish, small, and user-friendly pod system. It stands out due to its smaller-than-the-palm-of-your-hand size and ergonomic design, which includes a curved body and whistle-shaped mouthpiece for pleasant and user-friendly use. The SMOK NOVO series includes up to 18 different pattern designs. The SMOK NOVO 2 is similar in dimensions to the first-generation NOVO, at 88.3mm high, 24.5mm wide, and 14.5mm thick.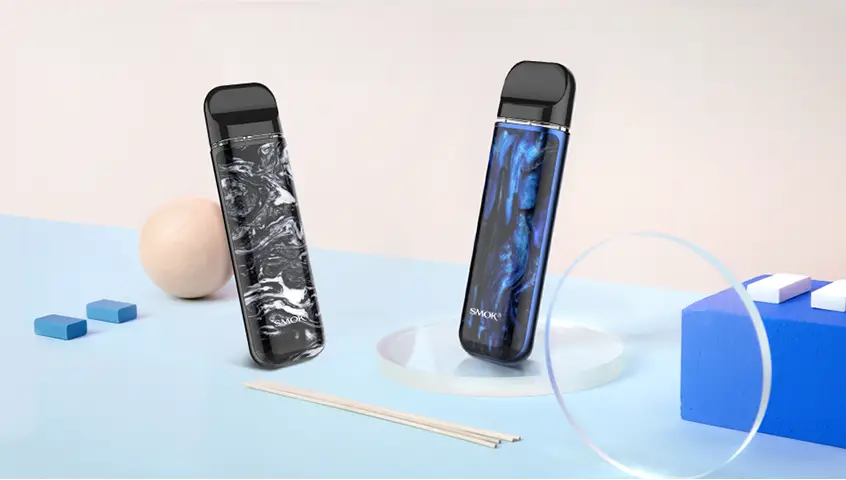 First Glance & Overview
The SMOK Novo 2 Pod Kit appears to be a compact, sleek device that fits effortlessly into any pocket or bag. The Novo 2 is slightly larger than its predecessor, measuring 88.3mm by 24.5mm by 14.5mm, yet it still has a tiny and discrete form factor.
The Novo 2's smooth and rounded edges make it easy to hold, while some users may prefer a more textured grip. The whistle-shaped mouthpiece contributes to the overall aesthetic and ergonomic design of the instrument, making it simple to use for beginners.
One of the most significant improvements of the Novo 2 is its battery life, with an 800mAh capacity that can last all day with light to moderate use. The device uses draw-activated firing, so there's no need to press a button to start vaping.
The Novo 2 also has enhanced performance, with a power output of up to 24 watts depending on the coils used. The package includes a 1.0ohm and a 1.4ohm MTL cartridge that can carry 2ml of e-juice, allowing for a more personalized vaping experience.
Overall, the SMOK Novo 2 Pod Kit outperforms its predecessor in terms of battery life, performance, and an ergonomic design that makes it comfortable and simple to use.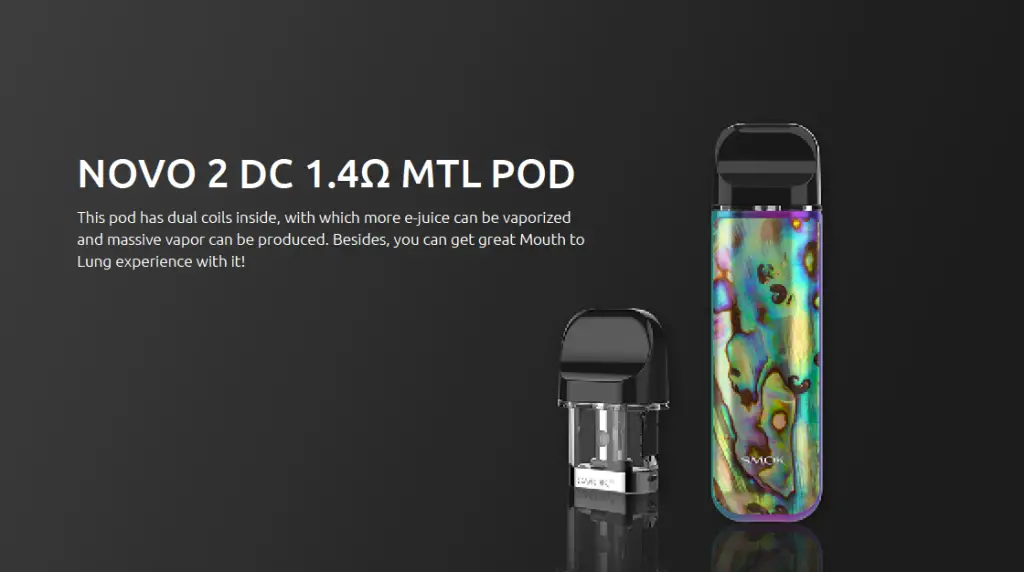 Build Quality and Construction
The SMOK Novo 2 Pod Kit is designed and built in the same manner as its predecessor, the Novo. The device is made of metal and plastic and is 88.3mm x 24.3mm x 14.3mm. The LED battery indicator, logo, and micro-USB connector are all placed similarly to the original Novo. The pod cartridges are designed similarly to the Novo, having a 2ml e-liquid capacity and a side fill outlet. 
The Novo 2 is available in various artistic designs, although the plastic material used in its construction is not as high quality as real resin. The device boasts an impressive 800mAh battery, which is double the capacity of the original Novo. It also features an LED indicator that lights up in different colors to show the battery level. The Novo 2 has a 0.5A charging rate, which takes over an hour to fully recharge.
The Novo 2 comes with two different pods, one with a 1Ω mesh coil for enhanced flavor and vapor production and another with a 1.4Ω round coil for mouth-to-lung (MTL) vaping. The MTL coil provides a cooler vape, but the draw is still a compromise between mouth-to-lung and direct-lung (DL) styles, which may not be suitable for everyone.
Overall, the construction of the SMOK Novo 2 is similar to its predecessor, with improvements in battery life and coil orientation in the pods. It offers a stylish and powerful vaping experience in a compact and user-friendly package.
What Comes With The SMOK Novo 2 Pod Kit?
1 x NOVO 2 Device
1 x NOVO 2 Mesh 1.0Ω Pod(No e-liquid)(2ml)
1 x NOVO 2 DC 1.4Ω MTL Pod
1 x USB Cable
1 x User Manual
Features Of The SMOK Novo 2 Pod Kit
Representative Design
Combination Of High Performance And Long Battery Life
Draw-Activation Brings Excellent Taste
Make Every Puff Worth
Small Groove Helps To Solve Big Problem
Led Indicator
Longer Warranty Period—12 Months!
Novo 2 DC 1.4ohm MTL Pod
Support Charging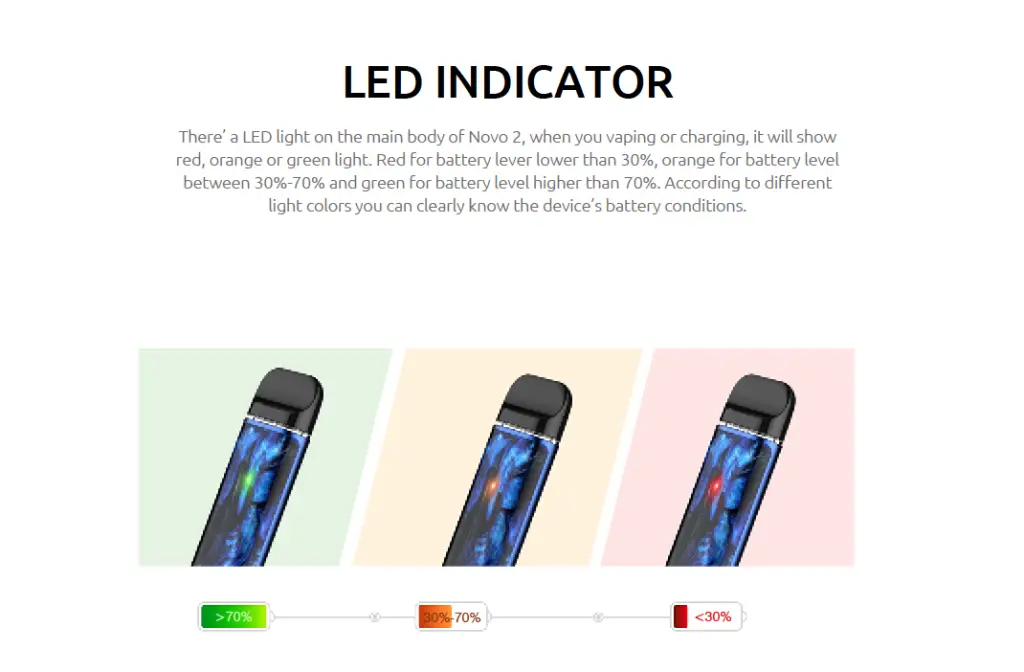 Specifications
E-juice capacity: 2ml
Size: 88.3mm x 24.5mm x 14.5mm
Battery capacity: 800mAh
Standby current: <20uA (No-load), <50uA (Load)
Resistance of pre-installed pod: 1.0Ω
Input voltage: 3.3V-4.2V
Output wattage: 6W-25W
Charging current: Max 0.55A
Charging voltage: 5V
Overcharge voltage: 4.3V
Over-discharge voltage: 2.4V
Overcharge current: 1A
Output voltage: 3.0V-4.0V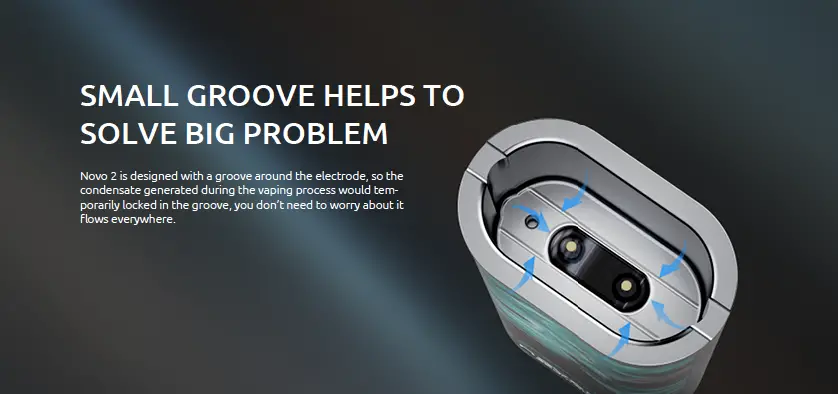 Colors Of The SMOK Novo 2 Pod Kit
KEEP CALM
Gold Shell
Gold Cobra
Blue Shell
7-Color Carbon Fiber
Gold Carbon Fiber
ENJOYVAPE
Red Cobra
Purple Shell
Tiffany Blue Cobra
Purple Red Carbon Fiber
Tiffany
I LOVE VAPING
Brick Red Shell
Tiffany Blue Carbon Fiber
Black Cobra
Red Carbon Fiber
7-Color Spray
Blue Carbon Fiber
7-Color Cobra
Black and White
Black Carbon Fiber
7-Color Shell
Blue and Black
Blue and Brown
7-color
Yellow and Purple
Green and Red
Red and Yellow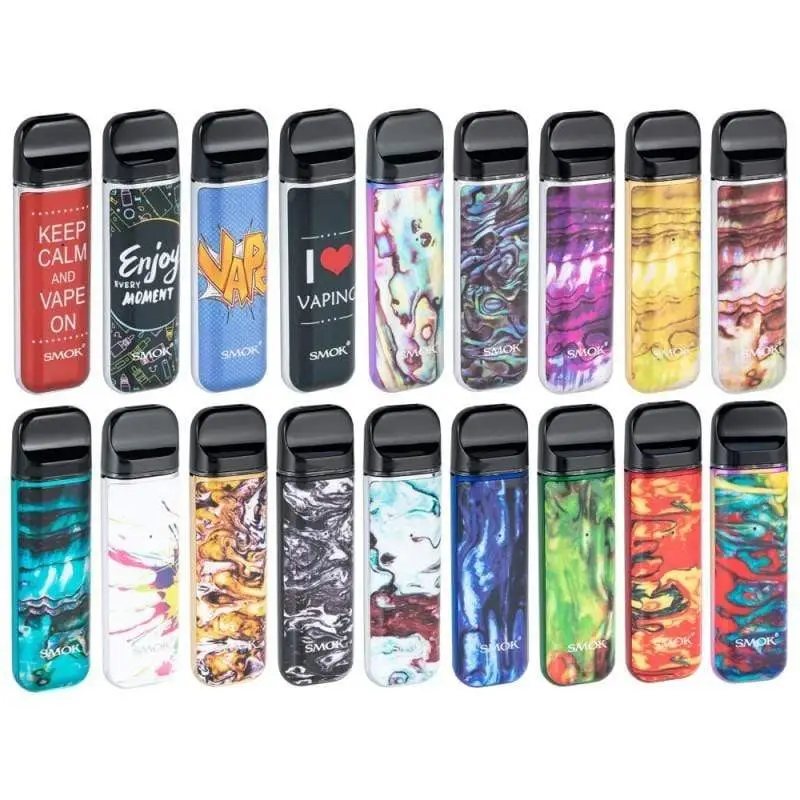 Dimensions And Weight Of The SMOK Novo 2 Pod Kit
Dimension: 88.3mm x 24.5mm x 14.5mm
Weight: 150(g)
How To Use SMOK Novo 2 Pod Kit?
Here are the basic steps for using the SMOK Novo 2 Pod Kit:
Charge the device: Use the included micro-USB cable to charge the Novo 2. The LED indicator on the device will light up while it's charging and turn off once it's fully charged.
Install a pod: Remove the pod from its packaging and remove the rubber stopper from the fill port on the side. Fill the pod with your e-liquid and replace the rubber stopper. Insert the pod into the Novo 2 until it clicks into place.
Turn on the device: Click the power button on the device five times in quick succession to turn it on. The LED indicator will flash to indicate that the device is on.
Vape: Inhale from the mouthpiece of the pod to take a puff. The Novo 2 is draw-activated, meaning it will automatically activate when you inhale. You can also press and hold the power button while inhaling to activate the device manually.
Adjust settings (optional): If you want to adjust the wattage or check the battery level, press the power button twice in quick succession. This will activate the LED indicator, which will flash different colors to indicate the current wattage or battery level.
Charge the device (again): When the LED indicator on the Novo 2 flashes 15 times, it's time to recharge the device. Simply connect the micro-USB cable to the device and a power source to recharge the battery.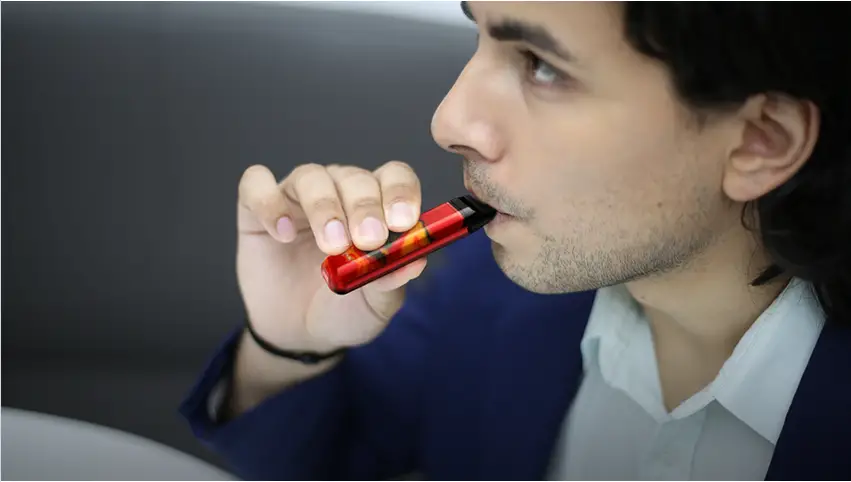 What Is The Daily Usability Like?
The daily usability of the SMOK Novo 2 Pod Kit would depend on the individual user's preferences and experiences with similar devices. Despite this, the following are some general factors that may impact the SMOK Novo 2 Pod Kit's daily usability:
Battery life: The battery life of the device is crucial to its daily usability. The Novo 2 comes with a good 800mAh battery that can last a day or more depending on usage. However, if the battery life is short, it may require frequent charging, which can be inconvenient.
Ease of use: There are no difficult buttons or settings to navigate with the Novo 2 Pod Kit. Because the device is draw-activated, it is ready to use as soon as you inhale through the mouthpiece. It's small size and light weight make it convenient to transport, and the pods are simple to refill and replace.
Quality of vapor generation: The quality of vapor production can have an impact on the device's everyday usability. The Novo 2 generates high-quality vapor with a pleasing throat punch and adequate flavor. The amount of vapor produced, however, varies depending on the e-juice used and the age of the pod.
Maintenance: The maintenance required for the Novo 2 is minimal, with only occasional cleaning and pod replacement necessary. The pods are easy to refill and replace, and the device itself can be wiped clean with a damp cloth.
Price: The price of the Novo 2 is relatively affordable compared to other pod kits on the market, making it an attractive option for those on a budget. Its affordability also makes it more likely to be used daily, as it provides a good value for the price.
These are some of the factors that can impact the daily usability of the SMOK Novo 2 Pod Kit. However, individual experiences may vary, and trying the device for yourself is always recommended to determine its daily usability.
Price
The SMOK Novo 2 Pod Kit price is 21$.
Where To Buy SMOK NOVO 2 Pod Kit
Similar Products To The SMOK Novo 2 Pod Kit
Image
Product
Details  
Price UK/EU
Price US

SMOK Novo X Pod System Kit

Lightweight kit

Max Power of 25W
Power adjustment with a click
0.49-inch OLED Display
Built-in 800mAh battery
Smooth Vapor For Maximum Sensation
Embrace top-level MTL vaping
Check Price
Check Price
SMOK Novo 2C Pod Kit


High performance
Compatible With Novo/Novo 2/Novo 2X Pods
800mAh Internal Battery
Max 20W Output
Novo 2X Meshed 0.8ohm MTL Pods
Leakproof Technology
Draw-activated
2ml Vape Juice
Top Filling System
Battery LED Light
Check Price
Check Price
SMOK Novo 3 Pod System Kit

Compact Refillable
Built-in 800mAh Battery
1.7ml Refillable Pod
Side Fill System – Silicone Stoppered
Advanced Draw Activation
Bottom Micro USB Charging port
Safety features: over-puff, short-circuit, low voltage protection
Check Price
Check Price
SMOK Novo 4 Pod System Kit 25W 800mAh


High Quality
 800mAh Rechargeable Battery
25W Max Output
Type-C Fast Charging
0.49inch OLED Screen
One-button design and simple control
Latest Leak Proof Technology


Check Price
Check Price
Warranty
The SMOK NOVO 2 Pod Kit comes with a warranty period of 12 months. This means that if there are any defects or issues with the device within the first year of ownership, the manufacturer will repair or replace it free of charge. It's important to note that the warranty does not cover damage caused by misuse or improper handling of the device.
Can You Use Salt Nic In The SMOK NOVO 2 Pod Kit?
Yes, you can use salt nicotine e-liquids in the SMOK NOVO 2 Pod Kit. In fact, the device is designed to work well with both regular and salt nicotine e-liquids. It is recommended to use a lower wattage setting when using salt nicotine e-liquids to prevent the coil from burning out too quickly.
How Long Does The SMOK NOVO 2 Pod Kit?
The battery life of the SMOK NOVO 2 Pod Kit depends on multiple factors, including usage frequency, wattage output, and the type of e-liquid used. The device includes an 800mAh battery and can produce wattages ranging from 6W to 25W. With normal usage, the battery can last up to a day before needing to be recharged. However, under heavy use, the battery may only last a few hours.
The device has an LED indicator light that displays the battery level. When the battery level is low, the LED will flash red, indicating that the gadget needs to be recharged. The SMOK NOVO 2 Pod Kit includes a USB charging cord and has a maximum charging current of 0.55A. The charging time from an empty battery can take up to 90 minutes.
Pros And Cons Of The SMOK NOVO 2 Pod Kit 
Pros:
Sleek and compact 
Improved battery life compared to the original NOVO kit
Easy-to-use refillable pods with a capacity of 2ml
Compatible with both freebase and nicotine salt e-liquids
Comes with two pods for convenience
Cons:
Some users may find the draw to be too tight or restrictive
Filling the pods can be messy if not done carefully
What Do Other Reviewers Say?
Final Thoughts
The SMOK NOVO 2 Pod Kit is an excellent alternative for vapers searching for a compact and dependable pod system. Its elegant design, improved battery life, and customizable wattage set it apart from the original SMOK NOVO. Furthermore, because it is compatible with both regular and nicotine salt e-liquids, it is a versatile option for a wide range of vaping preferences. Its portability, ease of use, and convenience make it a perfect choice for on-the-go vapers or those seeking a more covert vaping experience.
Should You Buy The SMOK NOVO 2 Pod Kit?
If you want a sleek and user-friendly pod system, the SMOK NOVO 2 Pod Kit is an excellent option to consider. It's compact design and wide range of color options make it an attractive device to have. The performance is also impressive, with the smooth and flavorful vapor production.
Resources