With the health benefits associated with vaping compared to smoking, Juul started to become a global phenomenon, launching vape into the mainstream.
The Juul was a big hit, how good it the Juul 2 and is it worth it?
Here's How Good Is The Juul 2
The Juul 2.0 is the latest upgrade from the famous Juul. A small sleek reusable vape device with an improved 25% battery power, increase pod capacity, integrated app features and a choice of great flavors. All starting from £6.99 or $9 its a great choice whether you are new to vaping, upgrading from disposables or want a small carry around.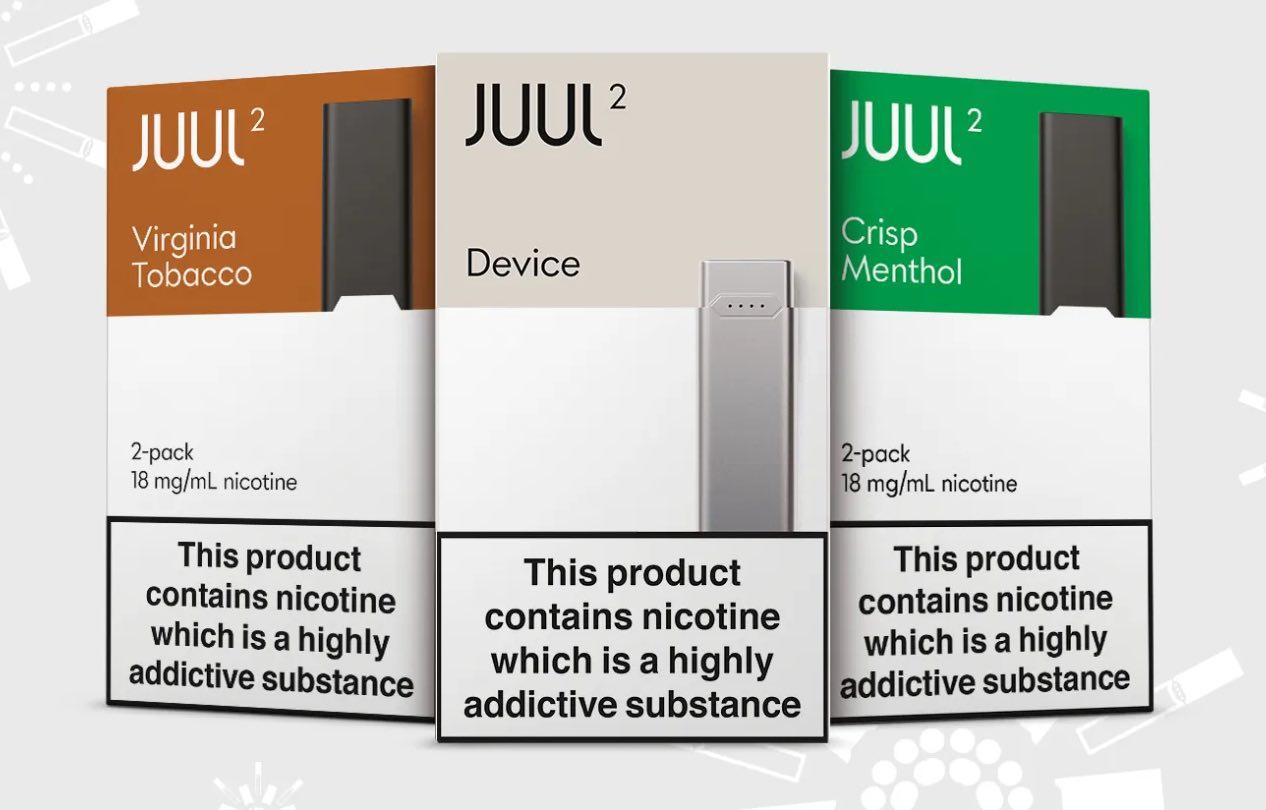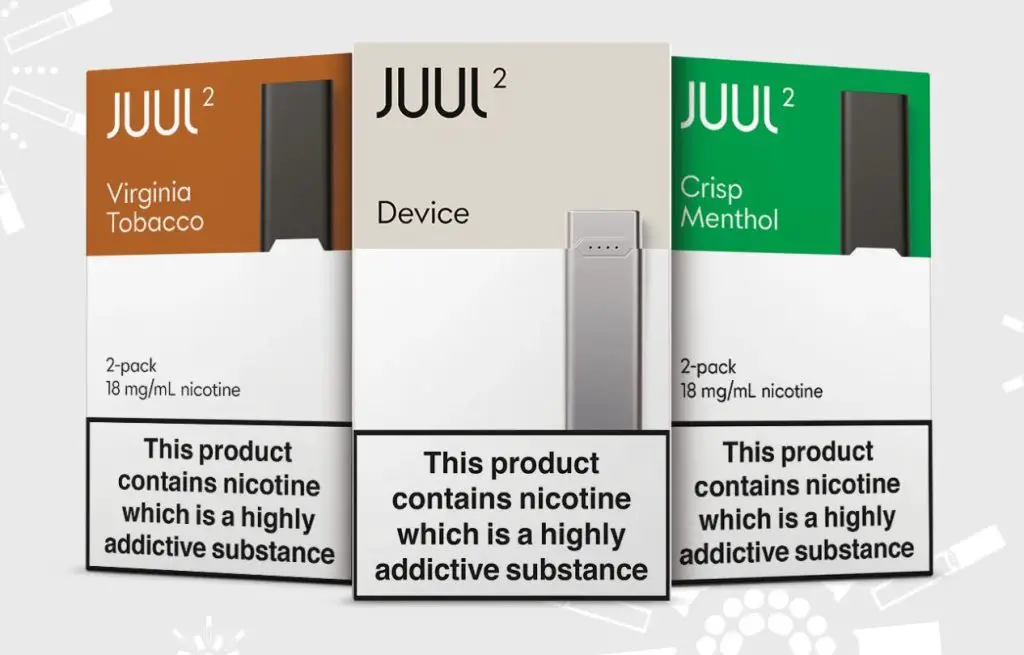 Who are Juul?
Juul Labs, Inc. was soon founded in 2015. The Juul electronic cigarette was introduced to the market by Pax Labs in June 2015 and has their devices made in China but the eliquid in the pods were filled in the USA.
Juul labs and pax soon split into individual companies both with different products in mind. Pax vaporizer devices were a completely different product, designed for cannabis and loose-leaf tobacco (Non-e liquid based)
Whilst their products are still good and widely used, the brand had to restructure its position in the market, however is still available across the world.
The response in Europe has been far more positive than that in the US, where there some issues with the way Juul was marketing the products. These have now been resolved and Juul continues to be offered globally
You can find the full history here
First Glance & Overview
The Juul 2has a starter kit with 2 pods or you can buy the device by itself which also comes with the charger. Inside the packaging you are straight away greeted with the device semi charged and ready to go.
The 25% bigger battery at 330mah and the improved pod volume of 1.2ml, plus the app features make with a great upgrade. You get a longer lasting experience with over 25% more battery capacity than the original JUUL Device that lasts a full JUUL2 pod.
All new Improved tobacco and menthol flavors, wth a menthol berry flavor too. All JUUL2 pods are made with high-quality ingredients and blended and filled in the U.S.A.
The magnetic charger which you place the device flat on is much more convenient. And the reports of leaking pods on the first Juul are a thing of the past. The new pod/coil system gives a very nice smooth vape, with good vapor production and a nice throat hit.
Its so simple and easy to use theres not much to say but get started!
Juul advertise it as:
Build Quality and Construction
Juul devices are made from an aluminum alloy and plastics with a basic PCB, and designed to be very sleek and easy to use with no settings to change.
The extremely small size and auto draw makes it perfect for transitioning from smoking to vaping.
Despite its entry-level price point, Juul products seem to be well designed and durable.
Juul take a lot of care and Pride in their quality control. In fact they have dedicated an entire page to it. You can check it out here
https://www.juul.co.uk/quality-and-standards#juulpods-ingredients
What Comes With The Juul 2
Features Of The Juul 2
Smart light interface
Indicator lights:
Charge status
Battery level
E-liquid level
Pod authenticity
JUUL App:
Get insights into your usage and liquid levels
Use data to understand your usage patterns
Find your lost device
Stay informed
Keep your device secure
Specifications Of The Juul 2
330mah
Power fixed
Autodraw avtivation
1.2ml liquid capacity
Usb charging (magnetic port)
Colours Of The Juul 2
Flavors
Ruby methol
Summer menthol
Autumn tobacco
Crisp menthol
Polar menthol
Dimensions And Weight Of The Juul 2
Height – 70mm
Width – 11mm
Depth – 7mm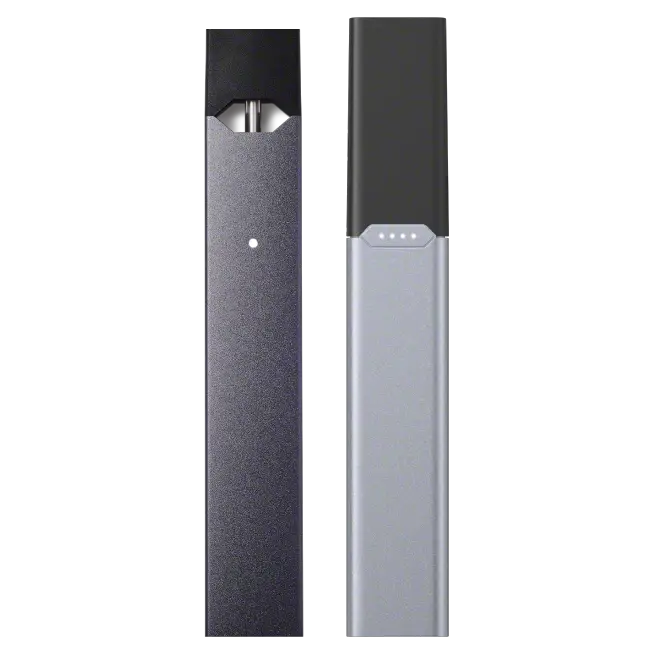 How To Use The Juul 2
The Juul 2 could literally not be any easier to use.
Open the packaging and remove the device which is already pre-charged by about 40%.
Open your pods pack, remove a pod from its sealed blister and put it on the device.
Simply device in your mouth and draw on it like you would a cigarette, firstly taking Vaper into your mouth and then inhaling into your lungs.
When your Pod runs out of liquid, you can either use the app to get your indicator warning, or you can see from the pod itself. Finally you will not be able to Vape any further as the device will start flashing notifying you that you need to change your pods. Remove the existing empty pod and attach a new one.
You also get a notification when your battery is running low, simply attach it to its magnetic charger and plug it in to a power source.
What Is The Daily Usability Like Of The Juul 2?
The usability is great, it is extremely small and discreet and the weight is barely noticeable. It's very easy to carry around and you'll get a decent amount of use out of each pod.
There are some really useful features, like the app that can help you know when your pods are nearly empty.
You also have the magnetic charging dock which makes it so quick to charge. And you can also even unlock your device and locate it from the app.
Although it's important to know depending on how much Vape, it might be worth purchasing a second device, or at least carrying the charger with you and a spare pod.
All the parts are so small, having them in your purse, or Pocket, or even a spare in your car, really isn't a big deal. It is the sacrifice with having something so small, and a reason why some people choose bigger devices.
There are some instances where the pods simply failed, another reason why it's a good idea to carry a spare pod at least. This isn't anything specific to Juul however, as some disposables will also stopped working before the estimated puff amount. Juul don't make any claims about how many puffs but you should expect 200.
Price Of The Juul 2
UK
Juul 2 device – £6.99
Starter kit with 2 pods = £9.99
Pods pack of 2 = £5.99
USA
Juul device – $8-9
Pods pack of 2 = $12.99
Where To Buy The Juul 2
The store Locator feature allows you to easily find stockists. The JUUL store locator makes finding JUUL products quick and easy. Use the JUUL locator to help you find e-cigarette shops and vape stores that sell pods, devices, and accessories.
Similar Products To The Juul 2
Juul 2 vs Juul
The Juul 2 is a great Improvement, the first one was a big hit and very easy to use. The new version gives you all those great features with enhancement
25% bigger battery from 200mah to 330mah gives you good all day use depending on how much you vape
9 and 18 juul was offered on the Juul 1 but the Juul 2 only offers 18mg in the UK and 5% in the US
The Juul 1 pods had a 0.7ml capacity, whereas the Juul 2 has 1.2ml, giving you more eliquid volume per pod.
You can also check out our article about Juul and the Juul 1 here
Warranty Of The Juul 2
JUUL Devices, JUUL2 Devices, and JUUL Portable Charging Cases come with a two (2) year limited warranty ("Limited Warranty") from the date of purchase. Proof of purchase from www.JUUL.co.uk or from an Authorised Juul Labs retailer by a person at least 18 years old will be required.
This does not affect your statutory rights.
Full terms of warranty can be found here.
To register your product – https://www.juul.co.uk/account/register
To submit a warranty claim – https://support.juul.co.uk/s/contactsupport
Can You Use Salt Nic In The Juul 2?
The Juul comes with its own pods and you cant fill them with your own eliquid. They come with nicotine salt eliquid. Here's what Juul say:
We use pharmaceutical-grade nicotine and benzoic acid, which, when combined, create a nicotine salt, which helps provide an enhanced vapour experience. Flavouring can be a mixture of natural and artificial ingredients which provide the specific taste profile in each JUUL2 pod
How Long Does The Juul 2 last?
Like with many devices they can typically last anywhere up to 1-3 years if regularly maintained. Juul have had the Juul 1 on the market for a long time, so you wont have a problem getting hold of juul 2 pods for a while
Replacing the pods can typically last anywhere from 0.5 – 2 days depending on the user and the type of the liquid used as some e-liquids contain more sweeteners and will burn the curtain quicker. 1.2ml of liquid can equate to approximately 200 – 300 puffs
What Do Other Reviewers Say?
Final Thoughts
The Juul 2 Is a massive improvement on the previous model, and a really good solid alternative to smoking. Also it's a upgrade from disposables, for anyone thinking of having something discreet and small, yet still giving convenience and a decent amount of daily use.
Should You Buy The Juul 2?
Absolutely!
The price is extremely reasonable at £6 in the UK and $8-9 in the US, it's almost the price of the disposable, and thereafter replacement pods are a lot cheaper. There is a good choice of flavours and charging is really fast. If you're looking for something like this, there isn't much you can fault for the size.
Resources